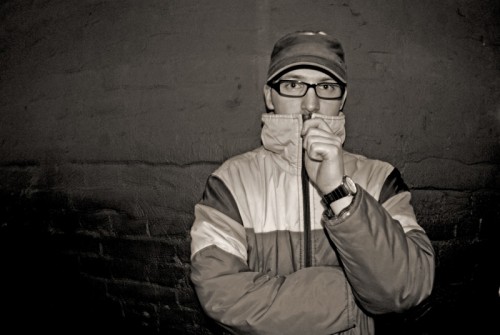 Hip-Hop Core: Can you introduce yourself for those who don't know you? Where do you come from and what got you into hip-hop?
Scientist: My name is DJ Scientist. Originally, I am from Munich. In 2005, I moved to Berlin. I started spinning records as a Hip-Hop DJ / Turntablist in 1995. I started making beats around 2001. In 2002, I founded the labels Audiac and Equinox Records. Additionally, I am one of the main persons behind the German Hip-Hop / Electronica publication DEAD Magazine. There is some other project I work for, e.g. the website and party series RapHistory.net.
I don't know when I really got into Hip-Hop. But it was in the late 80s when I copied the first tapes with rap music. It was stuff like Run DMC, 2 Live Crew, Eric B. & Rakim and Tone Loc. I only had tapes back then. The first Hip-Hop CD I bought on my own was the first Fu-Schnickens album in 1992. I also was into Grafitti and skateboarding back then. At that time, skateboarding was changing from it's punk / hardcore attitude to a more hip hop oriented style.
HHC: You're a DJ and a record collector? When did you start as a turntablist?
S: Like I said, before I started djing I already was a fiend for music itself. I recorded a lot of tapes from CDs and records that I borrowed from friends, neighbours, and so on. When I started djing in 1995 all I wanted to do was to mix and cut records and do turntable tricks like back spinning. Back then, you still had bad mixers with fucked up cross faders and the term "turntablist" didn't exist yet. I believe my first mixer was called "Gemini Scratch Master" – but it was a joke compared to modern mixers today. Towards the end of the 90s there was the big world wide turntablism boom with crews like the Invisibl Skratch Piklz and the X-Men. At the same time there were the new mixers by Vestax which changed the world of Hip-Hop-Djing. So, at that time I was part of various dj or turntablism crews myself.

My habit of collecting records just comes from being a DJ. Back then, you only could mix music if you had it on vinyl, there was no Serato or Final Scratch. So at first, I just bought records to be able to spin them, then, when I got into producing, I was also in the need of samples. So I was looking for old and rare records, that hadn't been sampled yet.
HHC: Being a DJ / label manager, is this your full-time job?
S: Yes.
HHC: When and how did you decide to start Equinox Records? What was the idea behind the creation of it?
S: I can't really say when exactly I decided to start a label. It was a progression from what I had always done. I always loved music. Then I started djing. Then, throughout the years I got to know a lot of people which were DJs as well, who where doing parties, and some people were already putting out records. Then I got into producing, and a lot of friends got into producing too. Also, when the internet became bigger, it was much easier to connect with like-minded people from other cities and countries. So, at some point I felt like there was enough potential and creativity that just needed to be brought together.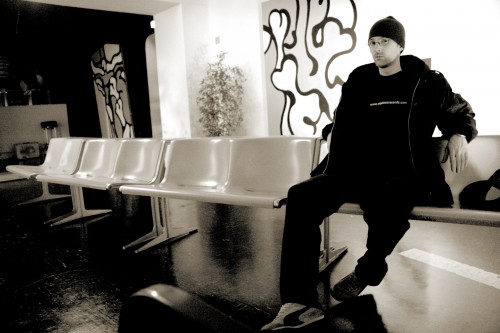 HHC: Why did you decide to create a sublabel, Audiac? Is this a more hip-hop orientated structure?
S: Yes, Equinox Records is basically a label for more electronically orientated music, while Audiac is a hip-hop, beats and turntablism label.
HHC: Equinox deals with different musical orientations with one link: the use of breakbeats. Is there a musical line that you try to follow?
S: The original idea I had regarding the certain "sound" of the label was the term "organic / electronic music". First, I was also thinking about doing a label that would completely focus on sample based music and breakbeats. But from the beginning on, there have always been artists that did NOT work that way. Arcsin for example, a dope producer from N.Y. (that now lives in Calfornia), is creating music electronically and rarely uses samples or old drumbreaks. However, even if some music on Equinox may not sound like Hip-Hop anymore, most of our artists come from a Hip-Hop background. So, I would say that one link to our music is the hip-hop background. But you can't really say that for everybody on the label. After all, I just wanna put out quality music that affects me and that I would like to buy myself as a customer.
HHC: When you started the labels, what were your influences? Is there labels that can be described as examples for what you want to do in music?
S: There were various influences. I think my main influences in regards to Equinox were the labels that were run by or started by DJ's or had a link to dj culture. So, on the one hand there were the main electronica, breakbeat, so-called "trip-hop" and headz labels in the early and mid 90s: Ninja Tune, Mo Wax, and a few others. Those have been quite influential.
Then there was the dj and vinyl culture in general. You could only find the good stuff on records. A lot of good music wasn't available on CD back then. For DJs vinyl was essential. I always liked labels that stood for a specific sound, that stood for quality. You would read the label name or see the logo, and you knew you could buy the record without even listening to it, as you had trust in that label and liked their sound. So, Equinox stands for a specific sound – not a genre.

Another musical influence comes from collecting records, especially psychedelic rock and kraut rock. In the early 70's you often had extensive cover artworks and beautiful fold out sleeves, which was influential to the equinox artworks.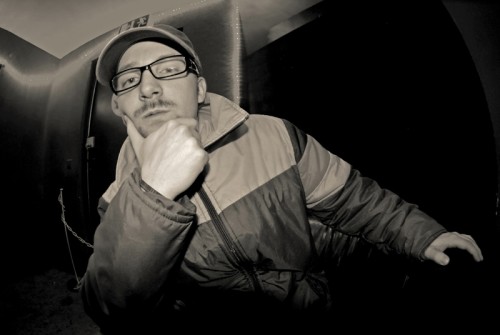 HHC: We know it's not easy to start your own independent structure with all the economic issues and transformations in the musical business right now. You have been working for Equinox for a few years now. What is the most important experience that you've learned from business?
S: Well, I don't really want to complain, but everybody knows that it's not all about the music when it comes to selling records. It seems as people from distributions, stores or magazines rather trust the popularity of someone instead of their own opinion about the music itself. If they have never ever heard from the artist or the label, they probably won't even listen to you, they won't review you, won't play you on the radio, and so on. And it's like a vicious cycle. It is very hard for independent labels and artists to be recognized by the public.

What we need is new labels, new distributions, new magazines, new artists. Of course, there are a lot of new artists and labels. And there is a lot of new media on the internet, like blogs and smaller websites, but they are not important enough - they don't have any power. I feel like that - even in the independent sector - there is an established system that rules the music market. And for example, most of the important magazines in Germany are run by one and the same company.

But as sales are going down in general and the industry is shifting to more and more digital distribution with less income on the sales, there isn't much money to invest. Small labels can hardly survive. So, please support the indies!
HHC: How many people are working for Equinox / Audiac? Do you have any employee? How is it organised?
S: I have people who work for Equinox regarding press promotion, booking etc. I outsource jobs like the new website and I have a trainee now and then. So it is a few people that work for Equinox but there is no real employee.
HHC: Who is distributing Equinox and Audiac releases?
S: We are distributed by Kudos Records in the UK and digitally we are distributed by Finetunes.net, which puts our releases on Itunes etc. Additionally we have our own distribution and the two main German mailorder stores HHV.de and Vinylkingz are supporting us.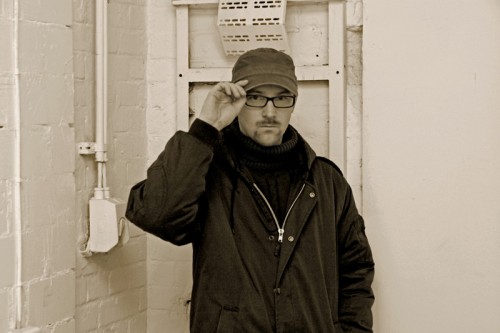 HHC: There's a good part of german producers & rappers in the "roster". We're neighbors but, in France, we don't hear much about what happens in Germany (I bet it's the same for you speaking about french things). Can you tell us about the German rap/hip-hop: is there an important hip-hop scene in big cities like Munich (where you come from), Berlin,...? Are there people who can be considered as pioneers in German rap during the 80's or the 90's?
S: To be honest, I never really listened to German Hip-Hop. So I might be the wrong person to answer that question. I think most of German rap was really wack compared to US-American Hip Hop. However since the early 80's there has always been a strong hip-hop culture movement in Germany, incorporating Graffiti and Breakdance. So, of course, there were some good rap artists too.

For example the Munich group called Main Concept was quite influental in Germany in the early 90's, they had a charismatic MC, a good dj and a good producer. Main Concept was one of the few German rap group most of my friends and I really like back then. Other quite famous and much respected artists were Torch and Advanced Chemistry, DJ Mirko Machine, DJ Stylewarz and the Stieber Twins, for example. A bit later groups like Doppelkopf or RAG were partly influental in the mid to late 90's regarding more abstract lyrics.

However, in the late 90's, when me and some of my friends became deeper involved into recording tracks and producing music, there was a new style of independent hip-hop by acts like Company Flow, Army Of The Pharoahs, Rebel Alliance, Sir Menelik, Living Legends, The Grouch, Rubberroom, Shape Shifters, Aceyalone & Project Blowed... and also artists that later formed Anticon: Sole, Buck 65, Dose One, Sage Francis, etc. I think this independent movement influenced some rappers and producers in Germany while the majority of people moved on to "mainstream" hip hop or just got stuck with the same old same old. Out of my perspective the pioneers of an early first wave of so called "experimental hip hop" in Germany were artists and groups like Mnemotrauma, 88:Komaflash, Ground Zero (which is the turntablism group I was in), Misanthrop, Scheiterhaufen, Xndl & The Offbeat Turntable Mechanics, Deckard, and of course some others which I may not know.

Some of the first German labels who put out abstract Hip-Hop were Subversiv, Oi Da Mo, Audiac, Quiet from Switzerland, and also Project Mooncircle. I guess there was a scene in Berlin too. There was weird stuff like Taktloss and artists such as Sichtbeton and Long Lost Relative for example.

Now there is a second wave of German "abstract hip hop" with rappers and groups like Audio88, HPA, Soda, Materpfahl, Cocon, and a lot of good electronica and experimental hip-hop producers like Playpad Circus, DJ B-Ju, Asup, Snatchatec, Smokey131, Karhu, Oslar Ohlson and Desad for example.
HHC: Throughout the years, you got connected with some foreign musicians like 2econd Class Citizen from the U.K., or Ceschi - whose latest 7" was released on Equinox a few weeks ago. Can you talk about it?
S: Equinox Records has always focused on international artists. I am in touch with a couple of producers from the US, Canada, the UK but also France. I got to know 2econd Class Citizen through myspace. I was totally blown away by his track called "Wishing Well" which at that time came out on his first private press EP called "Divided Reality". It was exactly what I was looking for for my label. His 2nd EP "Wyred Folk" then came out on Equinox Records. I got to know Ceschi through Noah23. When Noah and me were on tour in early 2005 he gave me a CD-R copy of Ceschi's first album "Fake Flowers". Although this album was still quite roughly recorded, I immediately loved his flow, vocals and music. Soon after the tour, we got in touch with each other by email and through myspace. He liked my beats and I started to send him instrumentals now and then. However, we never really managed to record some music, as he was busy with other projects like his group called Toca and his 2nd album "They Hate Francisco False" and I was busy too, as I was moving to Berlin at that time.

Then, in 2007 I asked him if he wanted to go on tour with Equinox together with Noah23, 2econd Class Citizen, DJ Snatchatec and me. This is how we really got connected and became friends. When he was in Berlin he checked out more of my beats and some instrumentals really inspired him to immediately write lyrics. Since then we have been recording about 20 songs which will be released on a full length album on Equinox in early 2009. The album will feature guests like Myka 9, who released his latest album on Ceschi's label Fake Four Inc, 2Mex, Awol One, Sole, and a few others.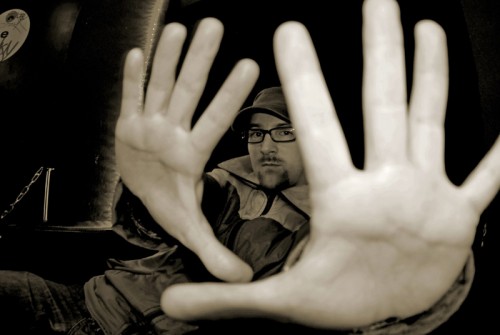 HHC: If one looks at the covers of your releases, he could say that art things are important for you. Who is the drawer or designer for your releases?
S: Yes, art is very important to Equinox and there is a unique style and method in which the artworks have to be done. All artworks are done by The Raincoatman.
HHC: There aren't many European rap groups or artists that can be considered as influencial but, since few years, there's a lot of producers that came out from many different scenes that mix instrumental hip-hop with electronic sounds and sometimes even dancefloor stuff (I think about the works of the Lucky Me family for example). As a producer and a label owner, do you consider yourself as a part of this "evolution"?
S: Well, I really don't know. Probably we are part of an evolution and probably we are not. I think that Equinox is still too small to really reach people at a wider scale. I just always wanted to release quality music that was fresh, exciting and new and had a slight reference to what has been done in the past. If our music influences others, that's a good thing.
HHC: What is your ambition for Equinox? Can you tell us about recent and upcoming projects? Do you want to continue the pressing of 12" / 10" or starting new things?
S: In 2009 we will focus morely on album releases instead of singles. The new 2econd Class Citizen release will be called "Madrugada" and will be released as a co-operation project with Project: Mooncircle, then there is the album by Ceschi and me, which I am really looking forward to release. Also there are new releases by Deckard and Geste in the works. Additionally, we just recently started another sublabel called Equinox.Digital which puts out digital only music, that won't be released on vinyl. Then, a new tour will be done in May 2009. So basically, Equinox will just move on and will try to get exciting music to the listeners out there.
HHC: Now it's your time, you can talk about anything you want: do you have any last few words?
S: Thanks a lot for the interview. Thanks to everybody who has read this. Hope it wasn't too boring, haha.
Interview by
Newton
January 2009